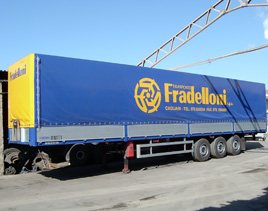 Lak Line manufactures polyester tarpaulins and/or PVC coated polyester, for any type of semi-trailer trucks from the traditional to sliding or curtainside.
Also, it produces tarpaulins for railway wagons.
All tarps can be on several chrome, normal or firepoof.
Each tarp can be customized by screen printing and/or four-color process, depending on the needs.
Select the item you're inteested in and view the technical datasheet in PDF format
Rail transport
PVC 650
PVC Panama 900
end faq
Road transport
PVC 650
PVC Panama 900
end faq
end faq